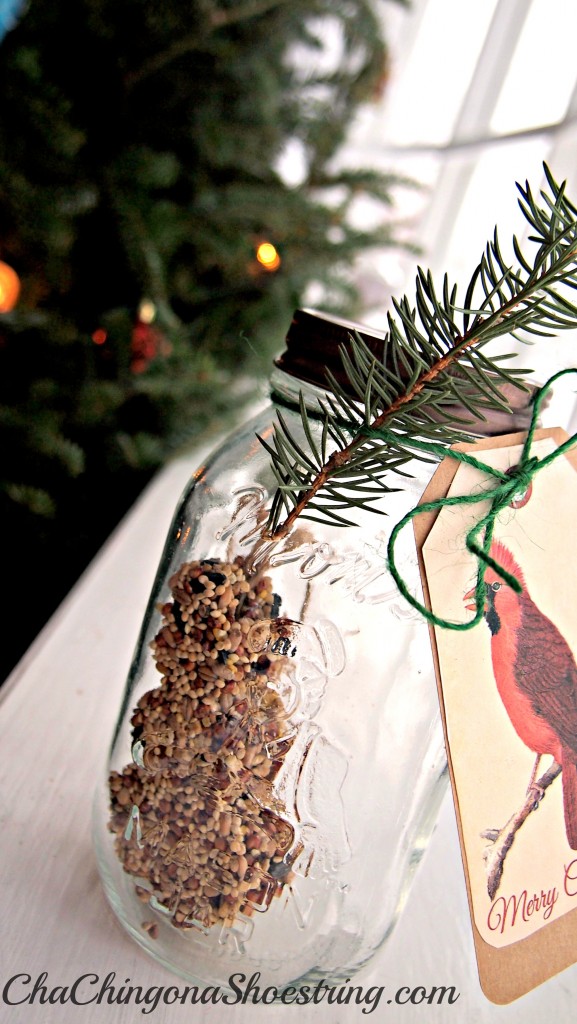 Sustainable crafting and eco-conscious gift giving is a great tradition to start for your family.  What could be better than an ornament that is cute, easy to make and also functional?  Even the kids can help to create this delightful birdseed ornament.  Plus, this is a recipe that is good not only during the holidays, but for birds year round!
For this simple yet adorable ornament, all you need is:
¾ cup birdseed (seed for small bird works fabulously)
¼ cup water
1 small envelope of Knox gelatin
Twine or string
Cookie cutters or Mason jar lids
Wax paper
To start, mix together an envelope of gelatin with ¼ cup of water in a saucepan and bring to a simmer while stirring.  Continue stirring until the gelatin is dissolved, then remove from heat and cool for one minute.  Stir in the birdseed.  If there is additional liquid at the bottom of the pan, feel free to add a little more birdseed until it's all soaked up.
Next, lay the cookie cutter or Mason jar lid on the wax paper.  Fill halfway with the bird seed/gelatin mixture.  Cut the twine or string and knot the end.  Push the knot down into the birdseed at the top of the mixture, until the knot is covered by the mix.  Now finish filling up the mold until it's full.
Now for the hardest part – leaving them alone overnight!  Little hands may want to explore, but these need to sit overnight in order to set up correctly.  When it's time to take the ornaments out of the mold, be careful to go slowly.  You may need to push them out in parts so that they come out in one piece.
You can now hang these on the tree, sit them outside for the birds or box them up as a gift! Simple, ecological and practical —the perfect holiday craft or gift to share with you and yours!
This blog brought to you by MosquitoNix Mosquito Misting Systems!